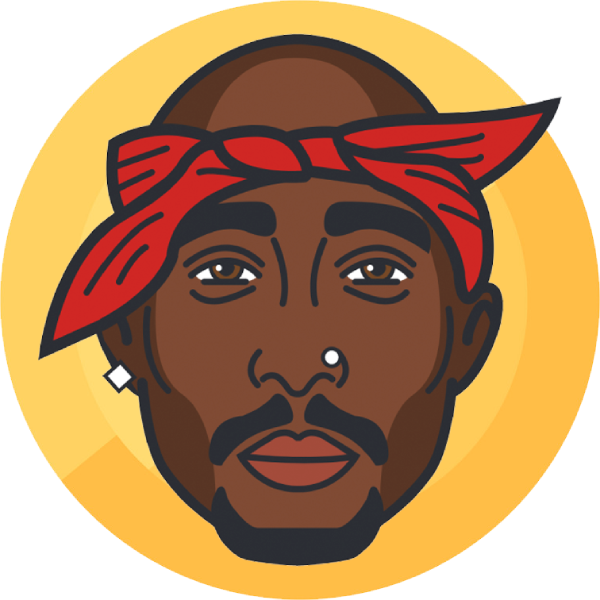 To the Vault & to the Moon
TupacCoin is a fan lead cryptocurrency with three main community objectives:
BUY BACK TUPAC'S LEGACY. Tupac's estate has been fought over and ransacked for corporate objectives. Profits from $TUPAC will be used to secure Tupac's legacy, purchase the remaining 2Pac catalog of music, and releasing it and other projects directly to the fans.
Charity. Every transaction automatically contributes to a charity wallet and is donated at the end of each month through block-chain verified transfers. We will be making our first donation on June 16th, 2021 – what would have been Tupac's 50th birthday.
Passive Income & Wealth. Every trade contributes a reflection fee, which is automatically redistributed to holders of $TUPAC as a form of passive income.
$Tupac is based on a system that rewards charities and holders alike. Every $Tupac transaction, purchase or sale, has a 7% transaction tax, split into three simple functions:
Charity
3% of every transaction automatically goes into a charity wallet to support inner city youth and arts programs that Tupac would have supported.
Automatic Liquidity
2% goes into a liquidity pool to maintain steady supply and a fair trading floor.
Rewards
2% of every transaction is automatically re-distributed to existing wallets holding $TUPAC.
Total Supply
The total supply is fixed at 19,711,996,000,000. Manual burns will be periodically applied to match charity donations to ensure a steady market price and supply.
Liquidity Pool
25% of the total supply has been added to the PancakeSwap pool and locked using UniCrypt.
Maximum Transaction
The maximum amount of $TUPAC anyone can transact at one time is 100,000,000,000. This is to help prevent whales from pump and dumping and manipulating the coin value, ensuring a fair community for holders.
A Crypto with a Purpose
While Tupac is commonly known for his big mouth, those that knew him best, knew him for his big heart.
Before Tupac passed he had plans to finance community-minded projects that included a center for at-risk youth, youth houses providing food, shelter and support, inner-city sports teams and a toll-free support number that kids could call to talk to someone, including himself. After his death, Afeni Shakur founded the Tupac Amaru Shakur Center for the Arts, with the mission of providing opportunities for young people through the arts – following her death the Center is now closed.
TupacCoin ($TUPAC) is an initiative by fans to further the Shakur spirit of giving and community support.
Every time a Tupac Coin is traded, a 3% fee is charged and automatically deposited into a charity wallet, which is then donated to outreach programs at the end of every month — programs such as Leila Steinberg's AIM4TheHeART Foundation.