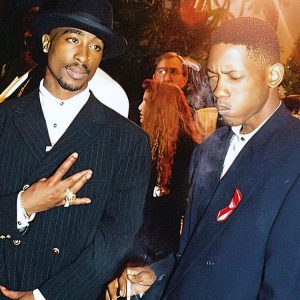 Not much new information here, but during an interview with Puff Daddy's REVOLT TV, Kurupt and Daz Dillinger spoke about working with Tupac when he got out of jail.
Can we get an untold story from the Death Row days?
Kurupt: Oh shit, how many memories? We were at SOLAR Studio first, then our own studio was Can-Am. So the memories are super, there's too many to even talk about. I know one thing about Can-Am, hey Daz! My greatest experience at Can-Am, Daz hit me when Pac came home.
Daz Dillinger: Told him, "Suge Knight had hit me and said, 'Come to Monty's mafia restaurant.'"
Kurupt: And we did.
Daz Dillinger: Got a couple of good steaks, good champagne. Tupac came into the studio, we did "Ambitionz Az A Ridah" and five other new songs.
Kurupt: You called me and said, "Kurupt, Pac's home." I said, "Yeah right." He said, "Yeah, we up at Can-Am right now. Come on through." I said, "You know what? I'll be there." …I went there, Daz and Soopafly were working on "Ambitionz Az A Ridah." The first record for his album. That's my fondest memory. I went there, walked in, Tupac was like "Kurupt!" 'cause I didn't see him.