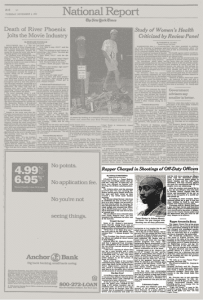 On November 2nd, 1993, the New York Times published an article titled "Rapper Charged in Shooting of Off-Duty Officers."
Read the full article below.
Rapper Charged in Shooting of Off-Duty Officers.
Tupac Shakur, whose rap recordings sketch what he calls the "thug life" of inner-city violence, was charged on Sunday with shooting two off-duty suburban policemen.
The Atlanta police said the shooting occurred after two cars carrying Mr. Shakur and his party almost struck the two men and their wives as they crossed a city street early Sunday morning.
The 22-year-old performer, who lives in California but was in town to perform at a local college, was arrested at his hotel shortly after the shooting. He was charged with two counts of aggravated assault and released this morning on $55,059 bond until a Dec. 1 hearing to determine if the case will be sent to a grand jury.
The two officers were released today from Grady Hospital here; one was wounded in the abdomen, the other was in the buttocks. 'Droppin' the Cop!'
Some of Mr. Shakur's best-known lyrics describe young black men as targets of police violence and discuss gang members shooting police officers.
"Drop them or let them drop you?" one lyric asks on the 1991 album "2pacalypse Now." "I choose droppin' the cop!"
Vice President Dan Quayle assailed the album and called on record stores to stop selling it.
Kenneth Ellis, Mr. Shakur's lawyer, said that it appeared from investigators' descriptions of the incident that the two officers started whatever gun play occurred.
"They have a person on whom they can lay a case initially and it may sound good because of what my client is identified with," he said. "But when you look at the bare facts, the only crime appears to be the actions of these two officers."
Many of the details of the incident remained murky today, said police officials. Capt. Herb Carson of the Atlanta Police Department's homicide division, which is investigating the case, said that so far the police were relying on the accounts of unnamed witnesses. Who Shot First?
According to some of those accounts, it was one of the officers who first drew and possibly fired a gun, although no weapons have been recovered.
In the last year Mr. Shakur's run-ins with the police have resulted in his filing a $10 million brutality suit in Oakland, Calif.; an arrest in Los Angeles last March on charges, later dismissed, that he assaulted a limousine driver, and accusations still under investigation in Los Angeles that he and others beat up a film director.
He is the son of Afeni Shakur, who in the early 70's was among the New York 21, a group of Black Panthers accused of plotting bombings in New York; all were acquitted. Ms. Shakur was released from jail when she was eight months' pregnant with Tupac. This background figures prominently in his press packet and his publicist, Taliba Mbonisi, says Tupac Shakur's "revolutionary credentials are in his blood."
Although many of Mr. Shakur's lyrics talk of "droppin' the cops" and the plight of young black men caught in a violent world, Ryan Cameron, a disk jockey on Atlanta radio station WVEE-FM, said that his work was "not limited to the gangster fairy-tale rap." While he played a gun-wielding gang member in the 1992 movie "Juice," Mr. Shakur this year played a conscientious postal worker courting Janet Jackson in "Poetic Justice."
"He has done raps encouraging young black women who have had children out of wedlock to keep their heads up," said Mr. Cameron. "But he is seen as someone who has a rebellious nature. And sometimes that gets you into trouble."
The police say witnesses gave this account of the incident in Atlanta: Mark Whitwell, 33, a police officer in Clayton County, just south of Atlanta, and his wife were crossing an Atlanta street with Mr. Whitwell's brother Scott, a 32-year-old police officer in Henry County, and his wife. Scott Whitwell's wife had recently passed the state bar examination and the two couples were out celebrating.
After the couples were nearly hit by a car, the two officers, who were both in civilian clothes, argued with the driver and passengers of the car as well as the occupants of a second car that pulled up.
According to some accounts, Mark Whitwell pulled out a gun. It was not clear whether he fired it, said both Atlanta and Clayton County police.
Witnesses said Mr. Shakur then fired a gun, and Capt. Carson said that three shell casings from a 9-millimeter pistol were recovered by the police. A spokesman for the Clayton County police said the department does not issue an off-duty weapon to its officers.