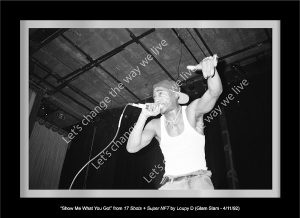 A selection of rare and unpublished photos of Tupac at the release party for 2Pacalypse Now are being released as non-fungible tokens.
The 18 NFTs are being offered up by hip-hop journalist and photographer Lawrence "Loupy D" Dotson, and they're being sold on the NFT platform, OpenSea.
Dotson is hoping to sell the NFTs for a staggering 25 to 50 ETH, that's equal to USD$102,464.25 – USD$204,928.50. This seems like an insane amount, considering both Mopreme Shakur and Makaveli album cover designer Riskie, released NFTs earlier in the month starting at USD$100 and haven't been able to sell a single one.
"I bought a disposable, black and white 35mm camera from the Thriftys on the corner of La Brea and Rodeo," Dotson remembered. "Later that night I got to Glam Slam, Prince's old club on Boylston Street downtown. I couldn't wait to see this brotha perform. I loved the energy he put out on stage as a backup dancer for Digital Underground; the same with his performance in the video when he dropped the verse on 'Same Song.' I knew that he was going to give it up that night for his debut release party. Surprisingly, there weren't many people at the show: mostly industry execs and a few heads from the underground community."
Dotson developed, but never published, the photos he took that night, but during his years as a substitute teacher, he would often show them to students as a reward for good behavior. But Dotson admits he was never sure what to do with the photos, although he now says, along with selling the NFTs, he wants to "create a traveling exhibit of the collection" to show them around the world.
"[W]hen you look at these photos you can see it in his eyes: the determination, the passion, the swagger, the shine," Dotson said. "These photos show a side of the man not many people got to see. This 'Pac wasn't covered in jewels and Versace; this 'Pac was humble and hungry. He knew what he going for on stage that night, and that was to become the legend that he is."
If you've got a spare $100,000, you can buy the NFTs here, you'll also get a printed signed by Dotson copy too.